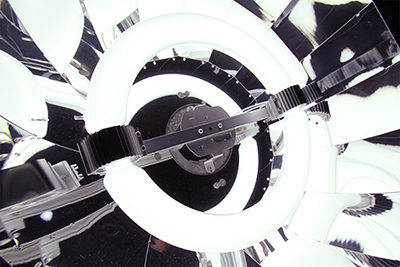 HOW DOES INDUCTION LIGHTING WORK?
Induction lighting is simple; the lamp is comprised of a single vacuum tube with a phosphorus coating. There is no liquid mercury, just a small, inert pellet of amalgam. The lamp is energized with two magnets wrapped around the outside. The magnets are controlled by a solid-state processor. The processor can be multi-volt, 110-­277, or dedicated 480 volt.
WHAT ARE THE BENEFITS OF INDUCTION LIGHTING?
ENERGY EFFICIENCY: Together the lamp and processor run at just 40 to 50% the wattage of HID fixtures, with illumination equal to metal halide output after just one year of use.
ULTRA-LONG LIFE: Today's induction is solid-state, it does not require sophisticated heat sinks and there are no parts to wear out. Induction is rated for 100,000 hours-­or 11.4 years of continuous operation.
VISUAL ACUITY: Induction delivers CRI >80 with a color spectrum nearer natural sunlight than any other energy efficient lighting source. Induction's broad color spectrum enhances color contrast, a crucial element of strong visual acuity. The Rensselaer Institute recommends a multiplier of 1.96 to standard foot candle readings to account for induction's acuity.
NO GLARE: Induction light is very diffuse, like fluorescent. The entire lamp glows consistently. Point source lights, like Metal Halide, HPS, and Led have extremely bright lamps or diodes that, unprotected, produce strong glare.
LOW-OPERATING TEMPERATURE: An induction fixture operates around 130 degrees Fahrenheit. This feature, along with a maximum strike temperature of 165 F., makes induction an ideal solution for high temperature industrial or commercial environments.
INSTANT STRIKE/RESTRIKE: Induction switches on instantly and it is immune to on/off cycles. Induction integrates seamlessly into modern control systems and can be switched on and off frequently without diminishing the rated life.
HOW DO THE VISUALLY EFFECTIVE LUMENS COMPARE?
Standard light meters do not go far enough to account for the role of color contrast in the eye's ability to see. Our eyes developed under the broad spectrum of natural sunlight. Color contrast gives us the ability to see a single green leaf against the backdrop of thousands. Very narrow beam light, like high-pressure sodium, greatly reduces the perception of color and so the light is less useful for the eye.
Visually Effective Lumens (VEL) accounts for the color spectrum of various light sources by assigning a multiplier to light meter readings.
High Pressure Sodium: .62
Metal Halide: 1.49
Fluorescent: 1.0
LED: 1.21 to 2.0
Induction, 5K: 1.96
ARE DIMMING AND CONTROLS OPTIONS?
Induction can be dimmed to 50% using standard 10v dc controls. Because induction is immune to on/off cycles, switching off 50% of the lamps is a very economical alternative to dimming.
WHAT ARE IDEAL APPLICATIONS FOR INDUCTION?
Industrial – Heavy industry, steel mills, oil refineries, chemical processing plants, manufacturing plants, warehousing facilities.
Commercial – Parking garages, auto dealerships, retail stores, athletic facilities, warehouses, dairy farms, gas stations, parking lots, there are numerous applications for induction lighting.
Retrofits– Induction lamps are available in several configurations that make retrofits possible in a wide array of existing fixtures.
WHAT ARE THE MAINTENANCE EXPECTATIONS?
The extended life of solid-state induction eliminates routine maintenance. In many applications, maintenance savings are equal to energy savings. This makes induction an ideal solution for demanding applications such as roadway lighting, tunnels and industrial applications where maintenance can be both expensive and difficult.
A BRIEF HISTORY OF INDUCTION LIGHTING.
Though induction is a 100 year-old technology, commercial induction lighting only became available with the Phillips QL Lamp in the mid-nineties, right alongside the introduction of LEDs. Induction Lighting has its roots in 19th century science. The principle of electromagnetic induction was introduced to the world by Nikola Tesla in the 1890′s. Tesla once lit 200 lamps, without wires, from 25 miles away.
Contact Us Today...We're Always Happy to Help!